Using the elf and angel together
Nov 18, 2015
I had posted a blog recently on the differences between the angel and the elf. Many of our friends have both the angel and the elf. Here are some pretty awesome ways they have used both.
When does the elf or angel come?
Some folks choose to use the angel and the elf at the same time and I will talk more about that below. For now, here are some creative ideas we have heard from those families that don't desire to use them both at the same time.
Idea 1:
During the first of December, the elf comes for a visit and hangs out till around the 15th of December. Around that time he leaves a letter telling the children that he has to go and help Santa get ready for the "last minute" preparations and needs to help finish toys and loading the sleigh. No worries though, the elf has met a friend (the angel) that has taught him the true meaning of Christmas and she/he is going to help prepare your heart for Christmas day!
Here is a pretty cute picture of a letter written from an elf. (Use a crayon and write with your left hand or right hand if your a lefty)
Idea 2:
For those of you that want to use the elf and angel at the same time here are some AWESOME ideas1 BTW none of them are ours, they are from friends that post on our pinterest boards!
The elf is mischeivious and the angel corrects him by encouraging him to know and DO what God's word says. These pictures will help show you what I mean.
Picture IDEA 1: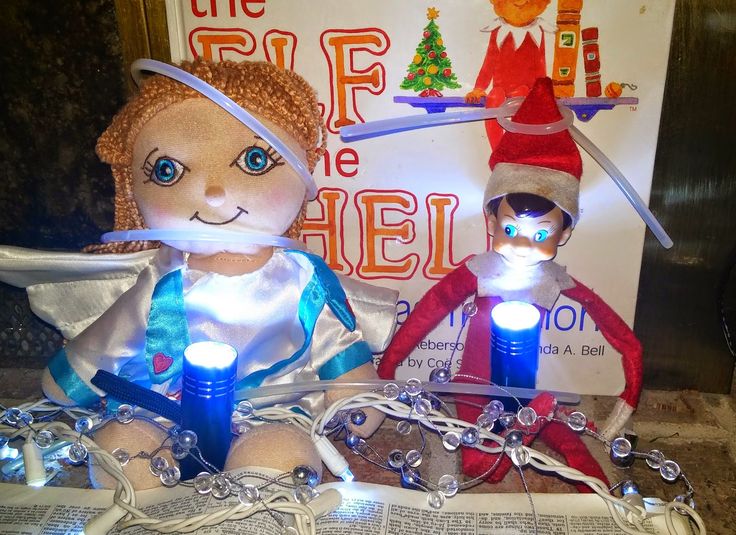 The elf is tangled up in glowsticks! No worries! The Christmas Angel makes a point to show the elf that in God's word it says that Christians are to be the light of the world.
Adding to this: Take the glow sticks and give to your neighbors with a scripture card attached to it!
Picture IDEA 2: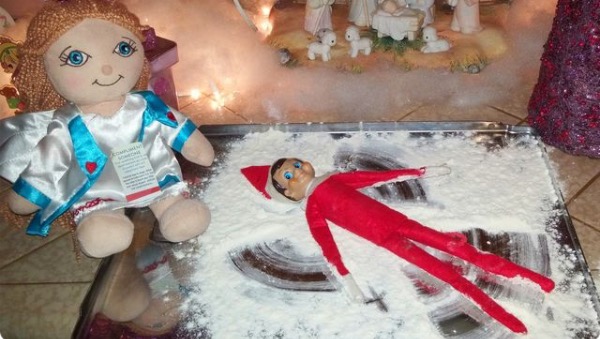 Here the elf is being silly and making "flour" angels. The Christmas Angel could suggest that they take the flour and make cookies to give to someone!
Hopefully this answers the question of how I can use the elf and the angel together!
Wanting more great ideas? There are more pictures and great creative ideas on our pinterest board!
Visit our pinterest board: https://www.pinterest.com/heartboxllc/christmas-angel-w-an-elf/
SHARE THIS!