The Christmas Angel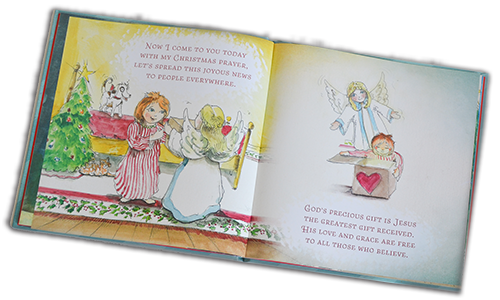 HAVE YOU EVER DESIRED A FUN FAMILY TRADITION THAT IS CENTERED AROUND THE TRUE MEANING OF CHRISTMAS?
The Christmas Angel is a fun and creative Christmas tradition pointing children to Christ during the holiday season!
DO YOU ASPIRE TO TEACH YOUR CHILDREN ABOUT THE JOY OF GIVING TO OTHERS?
Just as God loved us and gave to us the wonderful gift of His Son, we also are to love and give to others! This fun tradition begins by reading the storybook together as a family. It beautifully illustrates the timeless Christmas story and explains how The Christmas Angel visits with encouraging messages to give, love or serve others.
The Christmas Angel is an exciting way to capture new memories during this wonderful time of the year! Our heart's desire is for The Christmas Angel to be a meaningful tradition that captures the heart of the season while instilling in our little ones that

the great blessing is in giving rather than receiving. (Acts 20:35)